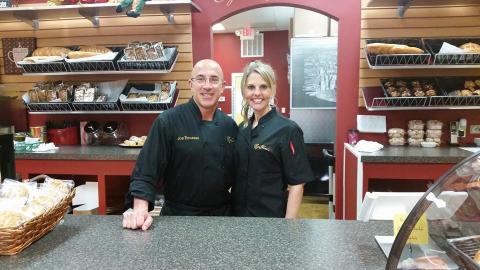 CynTucci's Bakery is located at 242 N. Main Street, (704) 360-8504 with a full repertoire of desserts baked on premises. We have a wide selection of Italian butter cookies by the pound, breakfast pastries, Italian pastries and desserts in our showcases daily. Our specialties are Italian pastries, breakfast Danish, Crusty Italian bread, Hard rolls, Italian butter cookies and our crunchy cannolis that are filled to order. We make custom cakes to fit into any event you are planning..We are an old school bakery. Joe Torcasso "Tucci" , Head baker and owner has been in the bakery business for over 40 years and has learned from many of the old school bakers and has hand picked the best recipes and brought them to Mooresville, so when you walk through our doors you will receive the New York Bakery experience.
Our bakeshop has café style seating so you can sit and enjoy your sweets with a hot beverage or carry out. . We offer delivery, call ahead/pick-up, and catering services as well.
Please contact Joseph or Cynthia for assistance with your sweet planning needs. Our desserts don't just look great they are "Cynfully Delicious"!